How to buy
 This app sells only on the App Store. The price is 360 yen in Japan. In other countries the price is 3.99$. (2016) You can download this app from the App Store. Once you purchase it, you can use it on both iPhone and iPad.
 If there is version up, this app will be updated automatically, if you choose the "Updates" switch of "iTunes & App Store" ON in the Settings menu on your device.
Compatibilities and Restrictions
[Compatibilities]
 iPhone 4S, iPhone 5S, iPhone SE, iPhone 6(Plus), 6S(Plus), iPhone 7(Plus), iPhone 8(Plus), iPhone X, iPad Retina models, iPad Pro(9.7, 10.5, 12.9), iPad Air, Air2, iPhone emulation mode on iPad
[OS]
 iOS Ver9.0 or later
[Restrictions]
 This app is made on the basis of Apple's App Extension (Custom Keyboard) that was introduced on iOS Ver 8.0. You can not use this keyboard on the password area or the bank account or the credit card area.These are Apple's Custom Keyboard restrictions.
Features
Consonant letters are arranged in dictionary order and consonant and vowel are separated. So it is easy to choose a character.
Since Thai letters have phonetic information on it, so you can't miss selecting from similar letters.
Phakchi predicts the next character is consonant or vowel and assist you in switching screens, so you can input Thai text smoothly.
The scroll screens made the button size bigger than the standard keyboard. So there is no stress about inputting errors.
In the running, the screen design is adapted in response to the device rotation of the vertical and horizontal directions.
Seamlessly input Thai characters and Alphabets.
You can select gray tone keyboard color, for those who feel uncomfortable when screen color is changing rapidly.
■Thai character Input mode (Consonant screen)
It is easy to find the Thai character that you want to input. Because...
All the consonant letters are arranged in dictionary order.
You can refer pronunciation information on Thai characters.
Button size is bigger than the standard keyboard. (by using scroll screens)
| | | | | |
| --- | --- | --- | --- | --- |
| | Ver 3.4 iPhone Portrait | | Ver 4.0 | |
| | |   | | |
| | | | | |
■Thai character Input mode (Vowel screen)
It is easy to choose vowel symbols and other symbols. Because...
There are pronunciation guides.
You can refer pronunciation information on Vowel symbols
Prediction system assists you in switching the screens.
| | | | | |
| --- | --- | --- | --- | --- |
| | Ver 3.4 iPhone Portrait | | Ver 4.0 | |
| | |   | | |
| | | | | |
■iPad (Consonant Screen & Monochrome switch ON)
[differences from iPhone Portrait]
You can input Thai consonat letters with no scrolling the screens.
Tone marks are included in vowel screen.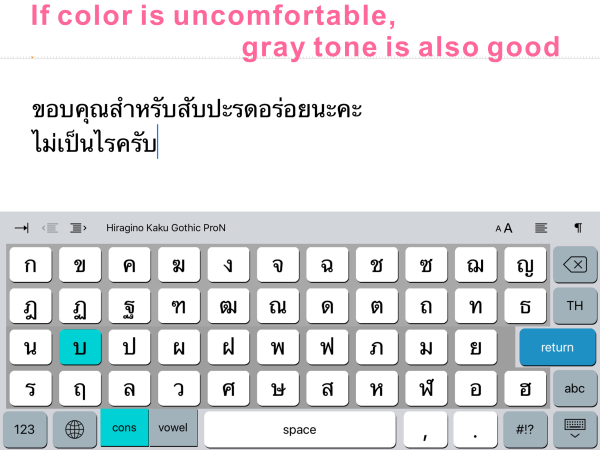 History
Date
Version
変更点
2016/3/25
Ver1.0
Phakchi - Thai Keyboard -
2016/11/16
Ver2.0
(1) Roman Alphabet Input Method is added.
(2) Available for iPhone only apps running on iPad. (emulation mode)
(3) The information switch was removed. Information always displays.
(4) Improvement of the Prediction system
(5) Available for new devices and new iOS version (iPhone 7, 7 Plus, iOS10.1)
2017/4/13
Ver3.0
SNS Phrase Input Mode is added
2017/7/29
Ver3.2
(1) Available for iPad Pro 10.5
(2) Improvement for one hand texting
2017/11/14
Ver3.4
(1)Available for new iOS devices (iPhone X, 8(Plus) etc)
(2)Available for iOS 11
(3) You can change keyboards from the list that is displayed by long pressing the globe button. (iOS 11 ~)
2018/2/13
Ver4.0

(1) Speed up startup time
(2) Keyboard height has become a little higher and we made it possible to access tone marks at any time. It makes easier to enter Thai text. (iPhone Portrait)
(3) Added Character information switch and Monochrome switch as option.
(4) Roman Input method and SNS mode are abolished.
Setting up of Keyboard
♦ To register Phakchi to the keyboard menu
Tap the Settings icon your Home screen, and navigate to General -> Keyboard -> Keyboards.
Tap the "Add New Keyboard" and choose "Phakchi". Then "KakiThai - Phakchi"is added the keyboard menu.
♦ How to add the click sounds
It is necessary to allow Phakchi to full access in the keyboard menu. All the custom keyboards of iOS need this setting to add the click sounds.
Tap "KakiThai - Phakchi"on keyboard menu.
Turn on the "Allow Full Access" switch. When you turn on this switch, iOS displays a warning message that the keyboard developers possibly gather user's information, however we don't collect personal information through using Phakchi.
Tap the Home button to close the Settings screen.
This setting must be done only once. To change the click sounds on-off, please use the Click Sound Switch of Options.
♦ How to call Phakchi
First, run any app (like Safari) on your device, and call the standard keyboard. Long press the globe icon of that keyboard. Then the keyboard menu is displayed. Choose "KakiThai - Phakchi".
You can also call Phakchi by changing the standard keyboards that are displayed by tapping the globe icon.
Even if you long press the Phakchi's globe icon, the keyboard menu isn't displayed. Please take the way of (2) to change keyboards.